A soft and smooth skin is everyone's dream. Many people prefer tweezing, waxing, and other forms of hair removal. However, they may harm your skin. Laser hair removal is an ideal option to get rid of unwanted hair growth. Lately, several people are going for laser hair removal treatment in Delhi, owing to its amazing results and long-lasting effect. Although laser treatment for hair removal has gained huge popularity in the past few years, it is essential to have complete knowledge about something that you are investing in. This article will answer all your questions about laser hair removal.
Get the best quality and affordable full body laser hair removal in Delhi at Aesculpir.
What Is Laser Hair Removal?
Laser hair removal is one of the most renowned cosmetic procedures that use concentrated laser light to remove unwanted hair from the skin. The melanin pigment present underneath the skin soaks the energy. During the treatment, the light energy gets converted into heat energy and damages the hair follicular sac that delays hair growth. People not only opt for limb hair removal but also prefer underarm laser hair removal. Aesculpir is one of the best full-body laser hair removal providers in Delhi.
Aesculpir has one of the best plastic surgeons in Delhi for laser hair removal treatment
Types of laser hair removal
There are various types of laser hair removal treatments available based on factors like skin tone, quality of hair, etc. As it is a cosmetic procedure, paramount precaution is a must. The laser hair removal cost in Delhi varies depending on the type of procedure. Below are the best four variants of laser hair removal;
Alexandrite: The alexandrite method uses a shorter wavelength to damage the follicular sac. The procedure hardly causes any pain and is suitable for all skin types.
Ruby: Ruby laser hair removal is one of the traditional laser hair removal techniques. This classic method is effective enough with lots of research on it over the years.
Intense Pulsed Light: IPL laser hair removal procedure is mostly customized for patients, to meet their suitable needs.
Diode: This cosmetic procedure penetrates deep into the skin for long-lasting results. Over the years, with advancements in cosmetic technology, Diode laser hair removal has become painless.
Benefits of laser hair removal
Like another cosmetic procedure, laser hair removal comes with a plethora of benefits. The best part about it is that the procedure is suitable for any location like underarms, upper lips, chin, bikini hairline, and many more. The benefits of laser hair removal are discussed below;
Quick and painless: Laser hair removal treatment is a quick procedure as it is performed on outpatients. Besides that, it does not cause any pain to the patient.
Precision: The precision of laser hair removal makes it beneficial. It targets parts with coarser hair and leaves the area unharmed. The patient can also go for upper lip laser hair removal.
Long-lasting results: Laser hair removal treatment in Delhi is more famous for its long-lasting results. It is better than any other hair removal method.
Permanency: After a few sessions of laser hair removal treatment, many patients get permanent relief from unwanted hairs.
How to prepare for laser hair removal?
Laser hair removal is not only the eradication of unwanted hair. It is a medical procedure that needs paramount care and precision for handling. Experts recommend that patients should avoid tweezing or waxing at least six weeks before this treatment. Laser hair removal before and after precaution involves precluding from sun exposure. The UV rays of sunlight tend to increase complications post-laser hair removal.
How does laser hair removal work?
Mostly there are two types of hair. Terminal hair is found in parts like scalps, underarms, genitals, chest, back, limbs, and eyebrows. The rest of the parts have Vellus hairs that are less pigmented as compared to terminal hair. Laser hair removal targets the terminal hair growth in the body. The concentrated beam of laser affects the anagen stage of hair growth, which is superficial and most active. Laser hair removal involves the process of Photothermolysis. Here the light energy is transformed into thermal energy. The melanin absorbs the thermal energy, which ultimately destroys the cell structure of the skin. Thus, prevent the growth of hair for a long period.
In order to get an idea of the cost of laser hair removal in Delhi for your particular case, it is best to make an appointment with your doctor and have the evaluation done beforehand.
Right candidate of laser hair removal
One of the best things about laser hair removal is that anyone can have this procedure done. Nevertheless, people above 18 years of age are ideal for the treatment. The patient must inform the specialist about any skin allergy. Laser hair removal for men is no longer a myth. Any adult can go for the procedure.
Why choose Aesculpir for laser hair removal in Delhi?
The Aesculpir is a one-stop solution for getting the desired skin as they offer the best laser hair removal in Delhi with long-lasting results. Having expert cosmetic specialists and trained staff members, the Aesculpir excels in cosmetic treatments. The full body laser hair removal cost at Aesculpir is reasonable and affordable at the same time.
Before & After Laser Hair Reduction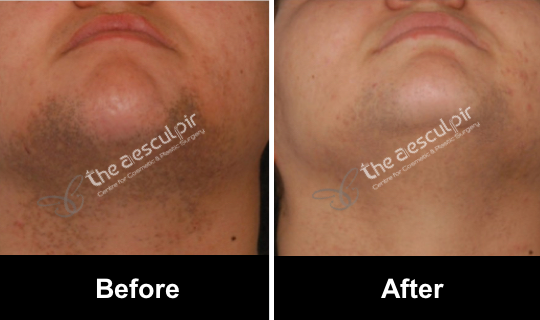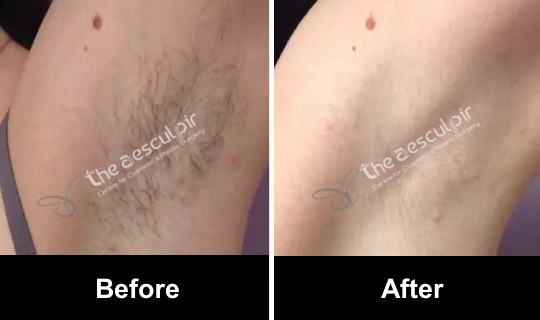 FAQs
1. How Does Laser Hair Removal Technology Work?
Laser Hair Removal is a modern breakthrough method to remove unwanted hair from your body. It uses laser light pulses to the exposed skin and weakens the hair follicles on the body before removing them completely. Rapidly gaining popularity amongst females as well as males, laser hair removal in Delhi is based on the concept of SPTL or Selective Photo Thermolysis.
In this treatment, a concentrated beam of light, with a specific wavelength, is aimed at the hair on the targeted areas of the body, such as arms, legs, underarms and so on. The light from the laser device then penetrates into the skin thereby destroying the hair follicles while simultaneously cooling the surrounding areas of the skin. It then gets absorbed by the skin pigment and prevents any further hair growth in the area.
2. Is This Safe For All Skin Types?
Yes, laser hair removal in Delhi is safe and can be successfully done on all skin types. Laser Hair Removal is a treatment which is done to reduce any unwanted hair on the body. This includes areas of the body such as legs, underarms, arms, upper lips, chin and the bikini line.
In other words, it can be done on any part of the body which has dark hair that you would like to reduce. A laser hair removal in Delhi basically relies on the type and pigment of the hair, and not of the skin. The hair is what absorbs the light. Furthermore, the laser beams only damage the hair follicle, without doing any damage to the skin itself.
In this regard, people with light skin and dark hair are best suited for laser hair removal, since there is a contrast between the colours of the hair and the skin.
3. Any Precautions To Be Taken Post Treatment?
After getting a laser hair removal in Delhi, one should take the following precautions:
Avoid bleaching the area where you got laser treatment
Avoid any excessive exposure to the sun for at least a week after the treatment
Use a sunscreen with SPF 30+ regularly
Apply ice or cold packs at regular intervals to subside any discomfort
Apply aloe vera gel to the area to reduce any redness and swelling that occurs
Avoid any strenuous exercise or sweating for at least 3 to 4 days after the procedure
Avoid the use of any harsh makeup or skincare products for a week after the treatment
Do not use hot or warm water to clean the area for a day or two after the treatment
4. Do I need to plan for time-off during the treatment?
Laser hair removal is a very safe and convenient procedure and the patients experience little to no discomfort during or after the procedure. There is usually no downtime after the procedure which means that the patients can return to their normal activities immediately after the procedure.
On an average, a person requires 3 to 7 sessions for complete results depending on their hair growth etc. So you only need to plan your schedule for these sessions and no time-off is required after the sessions.
5. What can I expect during my laser hair removal in Delhi?
Laser hair removal in Delhi is the best option for you if you have dense body hair growth and are tired of removing your body hairs continuously. Laser hair removal is the best alternative to waxing, shaving or threading because it provides a more permanent solution as compared to these methods that can only remove hair on a temporary basis.
It is a fast procedure and the laser has an instant effect on the hair follicles. You will start observing results from the first session itself, though you will require multiple sessions to get rid of the hair completely.
Laser hair removal is a technical procedure and should only be performed by qualified doctors like dermatologists. Take extreme care while choosing the center and doctor for your laser hair removal.
The cost of the procedure depends on many factors like:
the body part(s) you want the hair removal
the kind of hair growth you have
the exact number of sessions you require
the clinic you choose for the procedure, etc
Keeping all these factors in mind, laser hair removal in Delhi can cost anywhere between INR 6,000 to about INR 20,000 per session.
6. Is this permanent?
During the procedure, the laser is used to heat up the hair follicles which render them dormant for a long period of time. This time period is much longer than that of waxing or shaving. Thus, laser hair removal results last longer.
But this procedure does not destroy the hair follicles completely and so it is not exactly permanent because you will see some hair growth even after the procedure. But laser hair removal does reduce your hair growth significantly from your original state.